Training, meticulous adherence to safety guidelines and situational awareness all contribute to preventing tragedies on jobsites, particularly those involving working at heights. A recent incident in Traverse City illustrates the need for emphasis on safety standards among masons and other construction workers using mast climbers in construction projects. If manufacturers or distributors of mast climbers are not training these workers or if contractors are not enforcing safety, you're going to have a problem.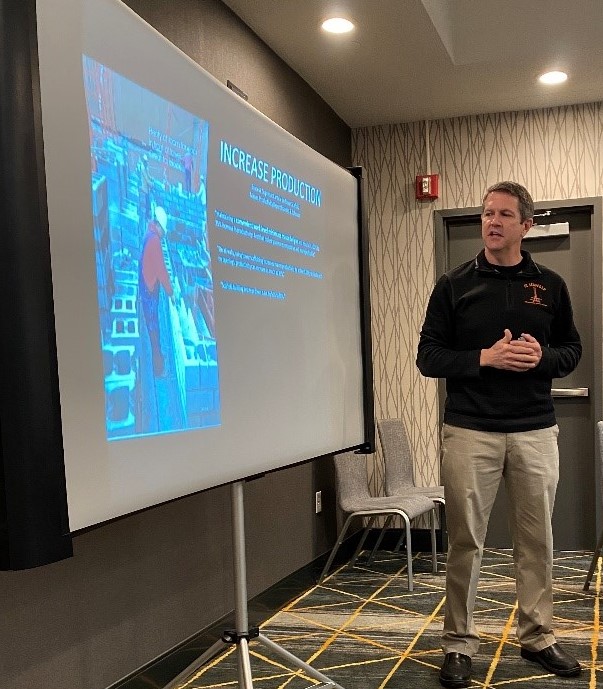 EZ Scaffold MI Safety Presentation Video
Read More
The West Michigan ASSP Chapter receives Platinum Level Recognition Award for 2020-21. Chapter President Rich DeLeau offers a heart-felt thank-you to every volunteer leader both at the chapter level and the student section level that made this possible.
Tuesday, September 21st, 2021
Topic: Weed in the Workplace – Current Trends
Presenter: Andrew A. Cascini
---
Wednesday, October 6th, 2021
Topic: Networking/Social: Founders Brewing Co: Centennial Room
Host: Kasey Wesley, GSP, EHS Coordinator at Founders Brewing Co., and Chapter Education Chair
---
Tuesday, November 30th, 2021
Topic: Making the World Safer Through Technology & Data Click this link to view recorded session
Presenter: Mr. Tom West
---
Thursday, December 9th, 2021
Topic: GVSU/OSHM Student 2021 Summer Internship Presentations
Presenter: Courtney Aloul, Affiliate Professor
---
Tuesday, January 25th, 2022
Topic: Construction Safety – Assembly and Disassembly of Crawler Cranes
Presenters: Josh Frantz, Phu Nguyen, Dick Moore & Rich DeLeau
---
Tuesday, February 22rd, 2022
Topic: Scaffolding – Raising the Bar on Mast Climber Safety Click link to view recorded session.
Presenter: Mr. Clint Bridges – Click to view Presentation slides.
---
Tuesday, March 22nd, 2022
Topic: DOT – What's New FMCSA Updates Safety Management System (SMS) Website
Presenters: Matthew A. Kinnucan, Motor Carrier Safety Administrator at FMSCA and Brittany DeVries, COSS,  N.A. Transportation Safety & Compliance Manager at GFS
Click links below to view Presentation and video
FMCSA Michigan Division Outreach Presentation Slides
WM-ASSP March 2022 Meeting FMCSA Safety Management System (SMS) Video
---
Tuesday & Wednesday, April 12th & 13th, 2022
Topic: 2022 Michigan Safety Conference
---
Tuesday, May 24th, 2022
Topic: Facility Tour – The New Grand Rapids Home for Veterans
Presenters: Dir. Frederick Schaible, Deputy Director of the Department of Military and Veteran Affairs, and Dir.Tiffany Carr, Community Relations
---
Thursday, June 23rd, 2022
Topic: VIII Annual Student Scholarship Golf Outing
Presenter: Bryan Hornik, Golf Event Chair & Immediate Past Chapter President